Ed Pont BA (Hons)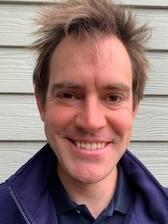 Summary:
Ed joined us at St Michaels Pre-school September 2019.
More info:
As a qualified Primary school teacher with a Degree in English, Ed has often visited the setting for story telling during his childrens' time with us. 
We were delighted to welcome Ed and knew that he would bring a new dynamic to our provision. Ed enjoys his role as house parent being involved in all aspects of his childrens development and as a part time tutor he is well versed in safeguarding policy and practise.
During the period of Covid 19 lockdown , Ed has been immersed in video productions for the childrens online accounts. His story telling has kept families engaged in their childrens journals.as they await the next one.
Ed has recently passed his Level 3 qualification in Early Years (EYE)
Qualifications
English BA (Hons)
PGCE
NVQ 3 Health and Safety
Introduction to the Early Years Foundation Stage
Online Prevent Duty 
Paediatric First Aid
Child Protection
Children's Behaviour as a Communication
Understanding Sensory Processing Disorder
Misunderstood Defiance
The Prime Importance of communication and language in the EYFS
Early Years Educator Level 3
Early Years Making Sense of Autism 2023
E-Learning through the COVID-19 Lockdown
Characteristics of Effective Teaching and Learning
Understanding and Addressing Behaviour