Pip Solly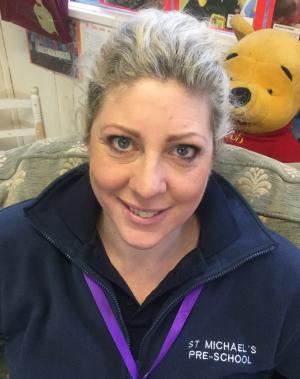 Summary:
Pip joined us in October 2017. She had expressed a wish to return to Early Years and applied for the role of Practioner when a vacancy arose.
She holds a Diploma in Nursery Nursing.
Pip has three children and qualifications but also first hand experience of Early Years and child development through the eyes of a parent.
Pip has attended training and workshops during her time at previous settings and has updated these.
We are delighted that Pip has joined us and look forward to supporting her through continuous professional development.
As we return to Pre-school in the summer term post Covid 19 LOCKDOWN Pip has taken on a subject to support childrens well being using 'Yoga' .During the sessions Pip finds a moment to introduce breathing exercises, stretching and introduces mindfulness with music and colouring patterns.
Qualifications:
Diploma in Nursery Nursing
AD-HD
Paediatric First aid
Health and Hygiene
Child Protection
Prevent Duty (radicalisation, sexual exploitation and F.G.M.)
Introduction to the Early Years Foundation Stage for Practitioners
E-CAT
Emotional Regulation and Challenging Behaviour
Social and Emotional Wellbeing
E-Learning through the COVID-19 Lockdown Prevent Duty in an Early Years Environment Characteristics of Effective Teaching and Learning Getting to Grips with the EYFS Being a Keyperson in an Early Years Setting Speech Language and Communicatio Infection, Prevention and Control in an Early Years Setting Introduction to Yoga with Young Children