Lynn Millen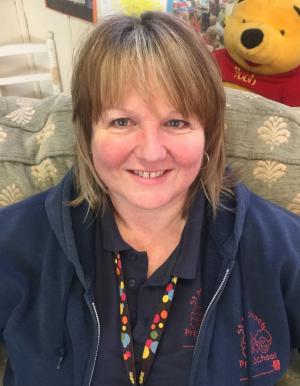 Summary:
Lynn has worked at Pre-school since January 2000
More info:
Over the years Lynn has embarked on Professional development and completed a Foundation Degree in  Early Years Studies. Lynn is a senior member of staff with a wealth of experience in working towards the best outcomes for children and families. Lynn has been involved with transitions to school for children with additional needs. Her engagement in this are has made her a strong ambassador for the work we do in Early Years.
As a keyperson Lynn creates strong working relationships with her keychildrens parents and carers ensuring the interests of the child are at the forefront of her planning.
Lynn regularly takes a lead position in sessions and enjoys supporting all staff.
As we made our phased return to pre-school, post Covid 19 lockdown, Lynn has contributed to planning on how we move forward. Her reflective practice and engagement with families has boosted parents confidence. Her relationship with children and staff is inspiring.
Qualifications
Diploma in Pre-School Practice (Level 3)
Early Years Foundation Degree (Level 5)
Introduction to Pre-School Practice
Equal opportunities awareness
Pediatrics First aid
Guide to action planning workshops
Child Protection
Management of Children's Behaviour
Creativity in the Early Years
The Picture Exchange Communication System
Record of Transfer
Birth to Three
Kent Foundation Stage
' Inclusion' PECS (picture exchange communication system)
Supporting Autism
Safe Guarding Children
My Unique Story
English as an Additional Language
Sparkles Early Mark Making
Safe Guarding - Information Sharing, Data Protection and Consent
Attachment Theory
Prevent Duty Training
Positive Handling
G.D.P.R essential for schools
Managing Positive Behaviour
Early Years Social Emotional and Mental Well Being
E-CAT
Early Talk Boost - I CAN
Designated Safeguarding Lead
Early Years Making Sense of Autism 2023
E-Learning through the COVID-19 Lockdown
Coronavirus Awareness
Sustained Shared Thinking
Effective Safeguarding Practice (revised 2019)
Characteristics of Effective Teaching and Learning
Reflective Practice in the Early Years
Infection, Prevention and Control in an Early Years Setting
Being a Keyperson
Understanding and Addressing Behaviour
Improving Children's Learning through Play
Speech language and Communication
Supporting Children With SEND in the Early Years
Introducing Yoga with young Children