Jemma Eve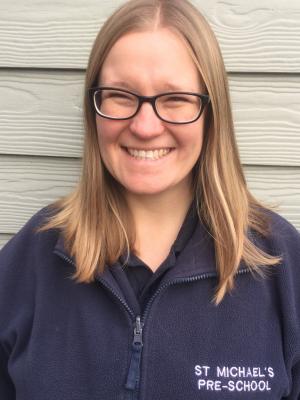 Summary:
Jemma joined us during the summer term 2018.
More info:
Jemma holds a level 3 in Early Years and also has qualified as a T.A. in schools. 
Jemma has taken on key children and is successfully supporting their development, engaging with parents so that she can be informed. She is active at staff meetings and has added ideas to the curriculum. 
Jemma has been working on her keychildren journals throughout the COVID 19 lockdown and been involved in stories, videos and activities. As we return to pre-school Jemma has engaged with all children and families supporting them in moving forward with particular attention to well being. Her gentle demeanor has supported children as they return.
Qualifications
Level 3 Early Years
Qualified level 3 TA in schools
Prevent Duty
Paediatric First Aid
E-CAT
Early Years Child Protection
Childhood Development Trauma in Early Years
Safeguarding children L1 and 2
Allergywise
ICAN Early Talk Boost
Understand Sensory Processing Disorder
Best Practice Guidance
Early Years Making Sense of Autism 2023
E-Learning through the COVID-19 Lockdown
Prevent Duty in an Early Years Environment
Effective Safeguarding Practice (revised 2019)
Characteristics of Effective Teaching and Learning
Being a Keyperson in an Early Years Setting
Speech Language and Communication
Understanding and Addressing Behaviour
Infection, Prevention and Control in an Early Years Setting