Tracey Pooleman BA (Hons)
Early Years Teacher / Deputy Manager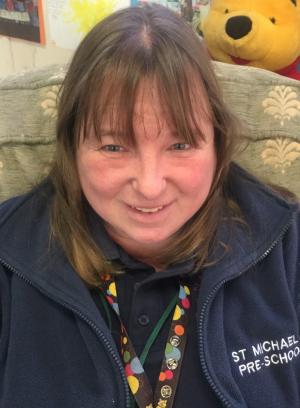 Summary:
Tracey has worked at the Pre-school since February 1999
As Deputy Manager Tracey endeavours to keep abreast of changes in legislation and good practise. Her dedication to promote and achieve strong partnerships with parents and families is evidence of her committment to childrens well being. She completed a Foundation Degree in Early Years Studies and then went on to acheive a BA (Hons) Degree in Early Years Studies, which enabled her to qualify for the Early Years Teacher Status. Tracey ensures the latest information is posted on our website and facilitates our Facebook page. Tracey has been proactive with introducing 'Tapestry' ( an online assessment tool ) to the setting. Tracey is the 'go to' person for parents when setting their PIN access. She mentors all staff on how to use Tapestry and facilitates the analysis section so that childrens progress is tracked regularly.
Recently Tracey and her partner have become 'foster carers' and have welcomed a long term child into their family. Tracey is the second D.S.L for the pre-school and has experience in attending child protection conferences.
During the COVID 19 lockdown Tracey supported all staff with their Tapestry online accounts, helping them load activities for families, researching and implementing videos and organising 'Zoom' staff meetings. In addition we decided a modified transition report would be relevant for the 2020 leavers cohort. Tracey has spent some time looking at how we will use this and include parents views.
Qualifications:
Early Years Professional Status (Early Years Teacher)
BA (Hons) Early Years (Level 6)
Early Years Foundation Degree (Level 5)
Diploma in Pre-School Practice 2000 (Level 3)
Science workshops
Introduction to Pre-School Practice
Creativity workshops
Equal opportunities awareness
Guide to action planning workshop
Autism awareness raising
ADHD awareness raising
Child Protection
Paediatric First aid
RIPHH
Record of Transfer
Birth to Three Kent
Foundation Stage
'Inclusion' Safe Guarding Children
My Unique Story
Leuven Training
Sign I Say
Attendance to regular Network Meetings
Penn Green Training day
Safeguarding - Information Sharing, Data Protection and Consent
Designated Person Safeguarding
Letters & Sounds Course
Inclusion Conference
Early Help Workshop
Prevent Duty Training
Behaviour for Early Years
Recognising and Preventing FGM V1.3 (Home Office)
Attachment Theory
Hearing Impairment
30 hour delivery workshop
Safeguarding children with disabilities
Understanding Autism TQUK Level 2
G.D.P.R. essential for schools
Ofsted Education Inspection Framework
E - CAT
Early Talk Boost - I CAN
Introduction to the 'Local Offer' for early yars providers.
 
E-Learning through the COVID-19 Lockdown Coronavirus Awareness Sustained Shared Thinking Prevent Duty in an Early Years Environment Characteristics of Effective Teaching and Learning Reflective Practice in the Early Years Understanding Children's Rights Infection, Prevention and Control in an Early Years Setting Understanding and Addressing Behaviour Improving Children's Learning through Play Introduction to Yoga with young Children Speech, Language and Communication Emotional Abuse Private Fostering Early language Development Effective use of Early Years Pupil Premium Autism Awareness Supporting Children with SEND in the Early Years